Shop Tires by Size, Vehicle or VIN
Shop online below or let our teammates at Caliber Auto Care help you find the right tires. We can also take care of wheel alignments, tire balancing and tire rotations - whatever it takes to get you back on the road and rolling toward what's important.
Shop for tires by category
Our tire shopping tool lets you shop for tires anytime and anywhere. We make it easy by giving you multiple ways to shop, and our tool will also show you how to find the dimensions of your tires. 
Search by vehicle
Search by VIN number
Search by tire size
Need help? Call or stop by a Caliber Auto Care near you.
What type of car tires do I need?
When it comes to choosing the right tires, there are many important factors to consider:
All-Terrain Tires - Provide added grip on all surfaces especially for a mix of on-and-off-road driving 
All-Season Tires - Work well in warmer climates and is a good fit for most Texas road conditions 
Performance Tires - Handle better at high speeds with improved control and traction
When do I replace my tires?
Many things can cause wear and tear on your tires, but here are some key factors to keep in mind:
Low Tread - You can check the depth of your tread with this simple trick. Place a penny head first (Lincoln is upside-down) into several tread grooves across the tire. If you see the top of Lincoln's head in multiple areas, your treads are shallow and worn
Vibrations - If you are sensing vibrations while driving, this could mean your tires have bad inner belts, or you need balancing or alignment
Bulging - Usually caused by hitting a curb or pothole, if you see bulging take your vehicle in for a tire check immediately. This could result in a ruptured tire
Weathering - Extreme weather (heat, cold, snow, ice) can have a dramatic impact on tires and is evident with cracking on the sidewalls or within the treads
Age - Tires need to be replaced every five to six years if wear and tear is normal
Why Caliber Auto Care?
We do things The Caliber Way. This means Caliber Auto Care is committed to building trust through transparency. Our team will always educate you on your car's health and offer straightforward solutions and pricing, so you can make the right decision for you and your family. We know how important your car is to you, so we make it easy to schedule and complete all your repair and maintenance services in one place.
Find a Caliber Auto Care location
Caliber Auto Care takes the place of your dealership's service department and your local quick oil and mechanical repair shop with efficient, high-quality auto repair or maintenance services at an affordable price.
We know that scheduling car care services between work, school and play can be a hassle. That's why we make it as easy and straightforward as possible, offering you neighborhood convenience, superior service, comfortable waiting areas or free local shuttle service and the option of staying in your vehicle for some services while we work. It's all about meeting your needs and standing behind our work.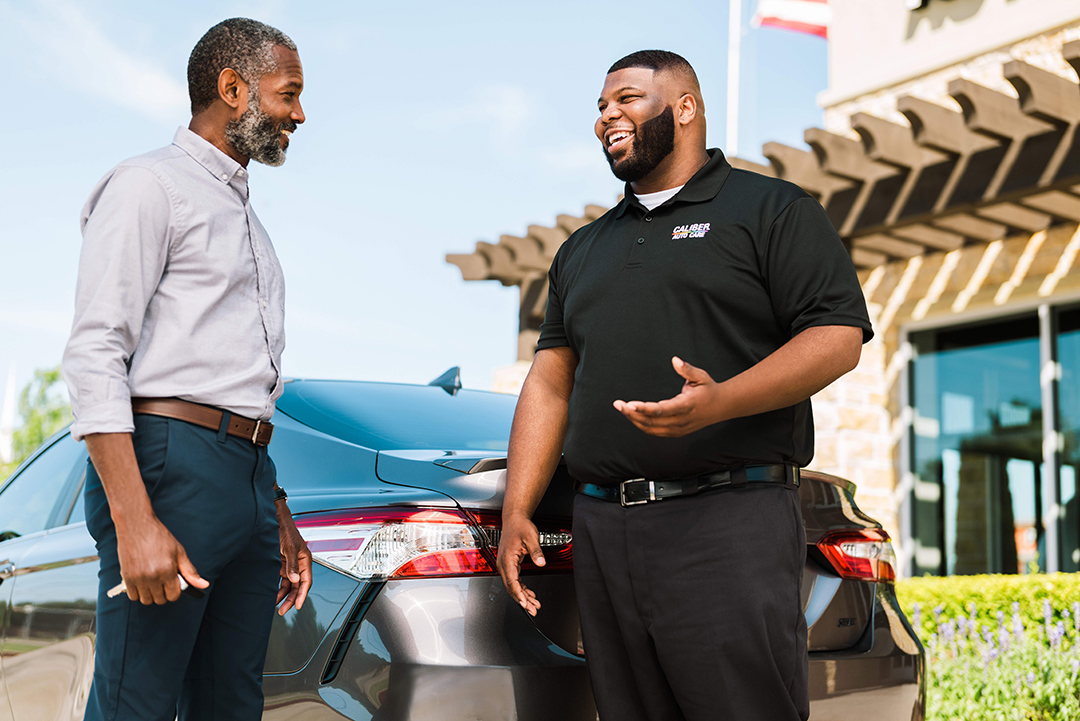 How can we help? Let's get you back on the road
Schedule an appointment
Find a time that works best for you and we'll start Restoring the Rhythm of your Life.
Get an estimate
Tell us about you and your vehicle to get a free initial repair estimate.
Contact Us
If there's something specific you need help with, let us know.